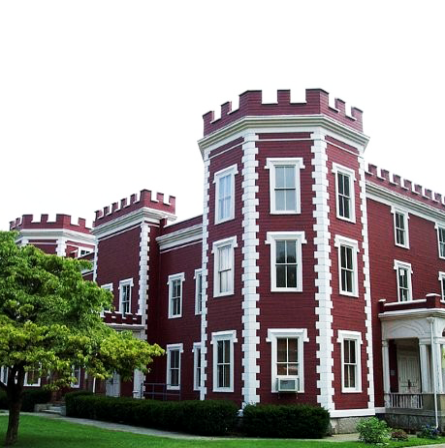 Bayside Historical Society
208 Totten Avenue, Bayside
Founded in 1964, the Bayside Historical Society advocates for preservation and protection of the area's historical spots. The society maintains two landmarked properties: the Officer's Club at Fort Totten Park, where the society is based; and the Lawrence Cemetery, located in a wooded area at the corner of 216th Street and 42nd Avenue.
The Officers' Club, also known as "The Castle," boasts a Gothic Revival style. Completed in 1887, the building served as a mess hall and club for the United States Army Corps of Engineers. The Lawrence Cemetery was granted to the Lawrence family by Dutch Governor Willem Keift of New Amsterdam in 1645. It is the final resting place of Cornelius Van Wyck Lawrence, mayor of New York City from 1834 to 1837.
Inside scoop: Fort Totten Park was an active Army base from 1857 until 1995 and the home to four major Army hospitals since the Civil War. The Fire Department of New York presently controls about one third of the property and the NYC Parks Department controls another third.
Neighborhood
Category
All Categories
Art Galleries
Landmarks